Styria can be divided into seven large regions , which are comprised of 13 individual districts. Each region has its own character and unique charm.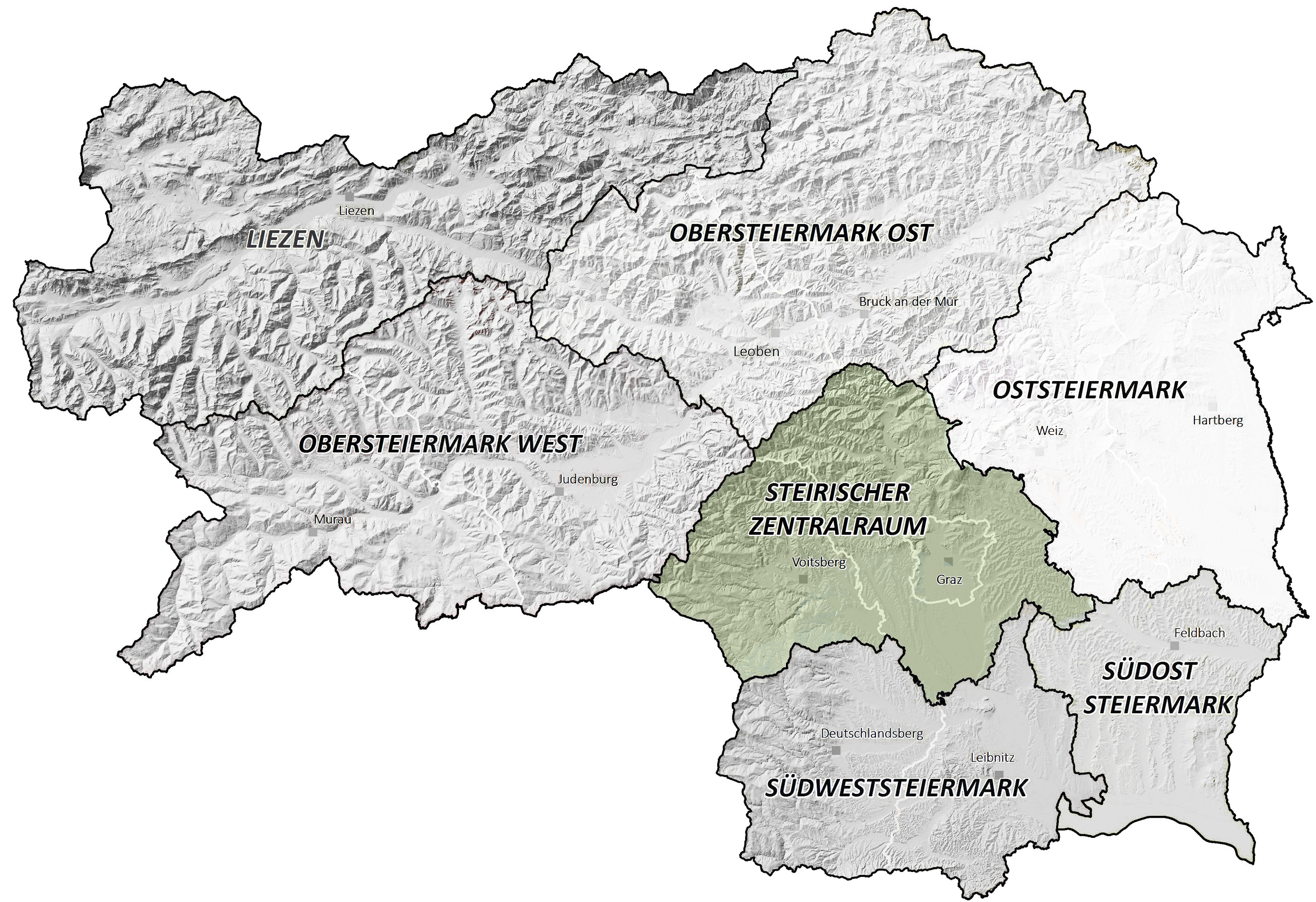 Central Styria (districts: City of Graz, Graz-Umgebung and Voitsberg)
History enthusiasts and culture vultures will not be disappointed by what this region has to offer.
History enthusiasts and cultural travellers will not be disapointed by what this region has to offer. As the Culture Capital of Europe in 2003, UNESCO City of Design since 2011, City of Human Rights and Reformation in Europe in 2015, Styria's capital Graz deserves to show its pride. As four of the five Styrian universities are situated in Graz, the city would also deserve to give itself the title of "university town". UNESCO World Heritage Sites in the region do not only include the old town and Eggebenberg Palace in Graz, but also the Lipizzaner Stud Piber, located in the district of Voitsberg around 20 minutes away from Graz by car. The horses of the internationally known Spanish Riding School of Vienna are solely bred at this stud. One of the many awe-inspiring natural wonders of Austria can be seen and explored in the country's biggest karst cave, the Lurgrotte, in the district of Graz-Umgebung. The cave system is home to a range of extraordinary karst formations and the longest underground passage in Austria, extending 5 km into the mountain.
What is also worth mentioning is the Regional Hospital in Graz: With an impressive size of 60 ha, it is the largest hospital in Europe in terms of area.
With over 512,206 inhabitants, Central Styria is the most densely populated of all Styrian regions. It is home to over 23,354 employers (last update: 2021) — and they are growing in numbers: In 2022 alone, over 2,446 new businesses were established. Internationally known employers in the region include:
ANDRITZ AG (machine construction, approx. 1,300 employees in Graz and 660 in Weiz)
AVL List GmbH (machine and vehicle construction with a focus on the development of powertrain systems, approx. 3,900 employees in Graz)
ams AG (electronics with a focus on microchips, approx. 1,300 employees in Premstätten)
Mayr-Melnhof Board & Paper (paper and printing, approx. 600 employees in Frohnleiten)
REMUS Innovation GmbH (metal manufacturing and processing with a focus on original equipment exhaust systems for sports vehicles, approx. 850 employees in Voitsberg)
The
Regional Management of Central Styria
deals with the development and future of the region.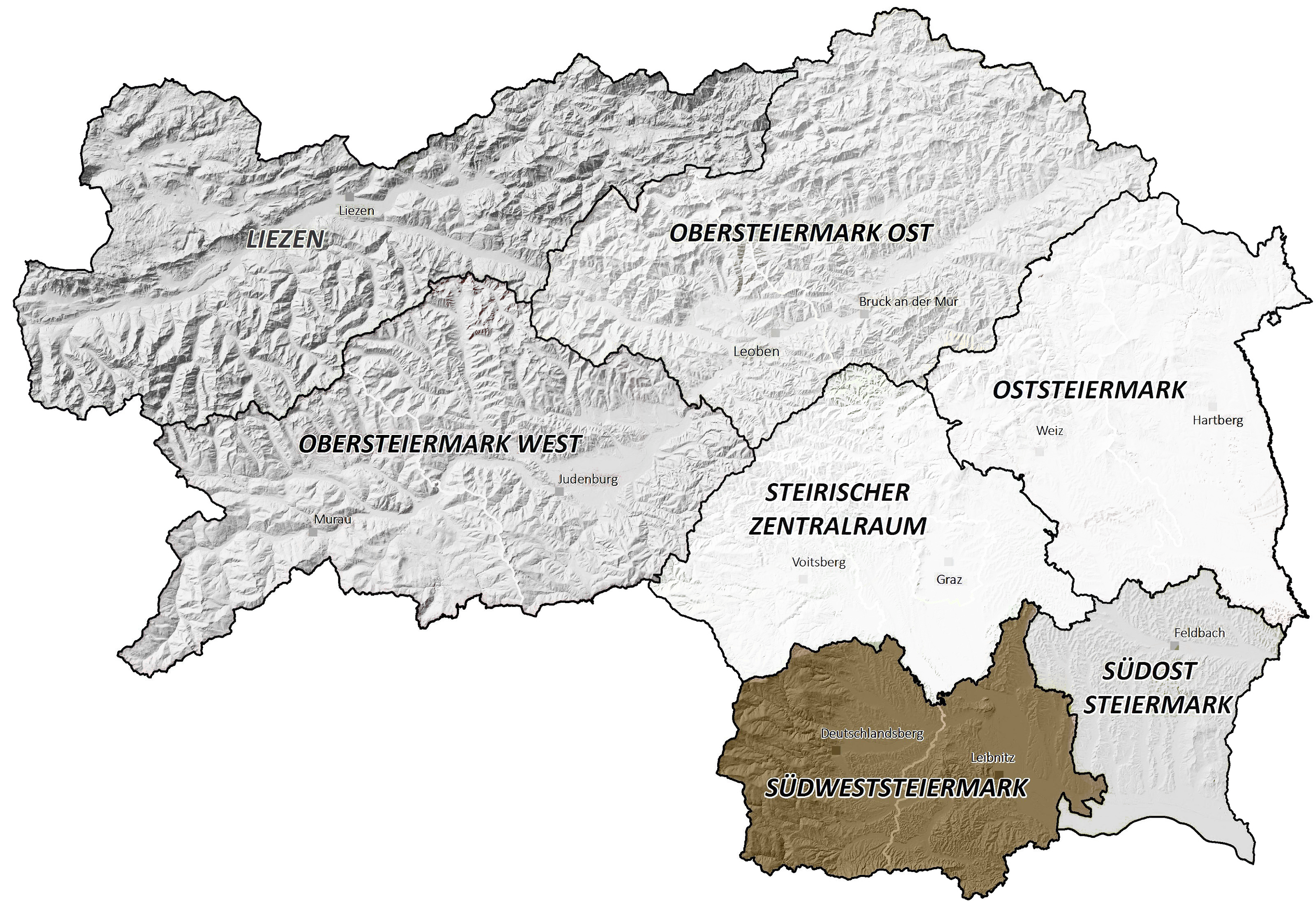 Southwest Styria (districts: Deutschlandsberg and Leibnitz)
Sample the region's superb wine culture!
In vino veritas! With 396 wine products, 153,016 hl of wine and 3.218 ha of arable land, southern Styria truly is the "Tuscany of Austria". The district of Deutschlandsberg is not only known for its fruity and refreshing Schilcher wine, but also for its pumpkin seed oil, the "green gold of Styria".
The largest of the over 10,973 businesses in the region are MAGNA Powertrain in Lannach (machine and vehicle construction) with around 2,557 employees and TDK Electronics GmbH & Co OG in Deutschlandsberg (electronics) with around 950 employees.
The Regional Management of Southwest Styria aims at promoting the exchange of ideas, networking and cooperation within the region. 
Southeast Styria (district: Südoststeiermark)
Recharging retreats and traditional wine taverns galore!
In this region, 123 Buschenschenken (in German) offer 84,114 people a relaxing atmosphere with traditional culinary delights. A Buschenschank is a traditional wine tavern that only offers local produce and serves typically Styrian dishes, such as the hearty Brettljause — a selection of locally produced meats, cheese and spreads served on a wooden board — blissful home-made desserts and refreshing beverages. The region's diverse culinary scene and traditional artisan skills are bundled under the overarching "Styrian Vulcano Land" (in German) brand.
The region is the right place for you if you are seeking retreats to recharge: Take a dip in the region's thermal spas; there is one located in Bad Radkersburg and one in Bad Gleichenberg. However, sports fanatics won't be disappointed either as they can enjoy the region's stunning nature while cycling along the 1,700 km long cycling routes.
In Feldbach (in German), the biggest city of the region, Boxmark Leather GmbH & Co KG employs 985 people (textiles and leather manufacturing, specialised in manufacturing seat covers), just one out of 5,999 companies in this region.
The Regional Management of Southeast Styria (in German) is committed to ensuring the region's development.
East Styria (districts: Weiz and Hartberg-Fürstenfeld)
One of the best places to live and linger.
In terms of inhabitants, East Styria (in German) is the second largest region of Styria. It is also the site of the biggest youth cycling race in Europe, the Radjugendtour Oststeiermark, and home to the longest continuous gorge in Austria. One of the highly committed cities of the region is Hartberg (in German), which has been a "Città Slow" since 2009. It is one of the cities of a whole international network, which perform particularly well in terms of liveability.
The largest of over 14,338 businesses in the region is Siemens AG Österreich Transformers in Weiz (electronics with a focus on transformers, 1,200 employees), followed by Magna Presstec in Weiz (metal manufacturing and processing, 800 employees) and Wollsdorf Leder (textiles and leather manufacturing, 750 employees).
The Regional Management of East Styria is tasked with getting the best out of the region.
Upper Styria West (districts: Murtal and Murau)
Here, not only outdoor enthusiasts, but also beer lovers find what their heart desires.
Over 150 destinations and around 250 hiking routes make Upper Styria West a special place worth living in. The region's traditional and sustainable brewing abilities are also worth noting: Each year, the Brewery Murau produces 280,000 hl of beer in an entirely carbon-neutral manner.
To strengthen the region's position as a business location, over 90 businesses joined to form the initiative "Kraft. Das Murtal" (in German) with the aim of building up a sustainable image and of actively assuming responsibility for the region.
The Regional Management of Upper Styria West (in German) ensures that regional development is successful.
Upper Styria East (districts: Bruck-Mürzzuschlag and Leoben)
A pilgrimage site and home to extreme sports — how does this fit together?
Upper Styria East is a true magnet for visitors: The impressive Basilica located in the charming alpine village of Mariazell attracts up to one million admirers  each year and thanks to the Enduro motorcycle race on the Erzberg mountain — known as the Erzberg Rodeo — 40,000 spectators find their way to the municipality of Erzberg each year. By the way, mining still plays a role on the Erzberg with 1,500 tonnes of explosives being detonated each year.
Located in the second biggest Styrian city, Leoben, is the Gösser Brewery. Its beer is famous as it was served during the banquet on the occasion of signing the state treaty. Located in Kapfenberg, voestalpine BÖHLER Edelstahl GmbH & Co KG manufactures cold work tool steels and also has celebrity status: The steel manufactured by the company is used across Europe to mint euro coins. The Montanuniversität Leoben complements the Styrian higher education system as the fith university of the province and currently provides 3,250 students training in the areas of geosciences, metallurgy, industrial logistics, petroleum engineering and recycling technologies.
Upper Styria East is also the location of well-known companies, such as voestalpine Stahl Donawitz in Leoben (metal manufacturing and processing, 1,300 employees), voestalpine Tubulars in Kindberg-Aumühl (metal manufacturing and processing with a focus on seamless steel tubes, 1,175 employees) and AT&S in Leoben (electronics with a focus on printed circuit boards, 1,746 employees) and 10,101 others.
The Regional Management of Upper Styria East (in German) contributes to the development and design of the region.
Liezen (district: Liezen)
Numerous natural wonders make this region a truly unique place.
Liezen is home to a number of natural treasures, such as the Dachstein, Styria's highest mountain with a lofty peak of 2,995 m, the Grimming, Europe's highest isolated peak, and the only Styrian national park, the Gesäuse.
300 km long runs in 22 ski resorts also make this region a paradise for snow aficionados. Even though Liezen is the largest of all regions with an area of over 3,318 km2 only 79.847 people live there. Compared with all other regions in Styria, Liezen has the fewest inhabitants.
The largest employers out of 6,210 copanies in that region are AHT Cooling Systems in Rottenmann (electronics with a focus on industrial cooling systems (and freezers), 1,100 employees) and the Maschinenfabrik Liezen (machine and vehicle construction with a focus on treatment und sawing plants, 1,000 employees).
The Regional Management of Liezen is responsible for ensuring sustainable and long-term development of the region.
Quality of life
Life in Styria is just a bliss — this is how you could summarise the results of multiple surveys. According to a study of the bmm institute, 85% of Styrians rate their quality of life as good to very good, 95% describe Styria as an excellent living environment and 97% like living in the province. 83% are satisified with their jobs and 84% like the holiday and leisure activities offered in Styria.
The same goes for people living in Styria's capital: According to a study conducted by the EU on the quality of life in different European cities, 96% of Graz's citizens like or love living in the city, 79% are satisfied with public transport and even 93% rate the city's health system and cultural activities as good or very good.
Living
Let's jump straight to the greatest advantage Styria has to offer: Whether you are renting or buying, the living costs are the lowest in all of Austria. There is, however, a difference between the living costs in the city and in the countryside. While buying an object in Murau costs 2,000 euros per square metre, it costs almost 4,500 euros in Graz. The same is valid for renting flats (in German). Small flats are generally more expensive per square metre than big ones. Added to the rent are operating costs (approx. € 2.24 per m2), heating costs (approx. € 1.20 per m2) and costs for electricity (depending on the consumption), for household insurance, the internet, television and telephone as needed.
Education
In Austria, school is compulsory for nine years for all children from the age of six. Every Styrian child receives a fixed and free place at a public school. Compulsory schooling starts with four years of primary school and continues with four years of secondary school. After the first eight years of school, children can choose from many different career paths, ranging from another year of school and subsequent apprenticeship to secondary technical or vocational schools with different foci and a subsequent degree programme at one of the five universities, two universities of applied sciences or two university colleges of teacher education in Styria:
Leisure
Wether you are a nature lover, adventure seeker, sporting traveller or retreating to recharge. Styria offers something for everyone. Here is just an extract of leisure activities you can do in Styria:
Shopping
Ranging from international fashion houses through weekly farmers markets and shopping centers to traditional department stores — Styria definitely does not fall short when it comes to shopping destinations. Buy everyday food and products in supermarkets, which are normally open from 7 am to 6 pm; in cities, they often have longer opening hours. All other shops, such as fashion boutiques and book stores, usually open around 9 am. In general, all shops and supermarkets are closed on Sundays with a few exceptions at important infrastructural interfaces. Located in Graz, the oldest department store in Austria, Kastner & Öhler (in German), invites shoppers to a relaxing shopping day out. With an array of 200 different shops, Shopping City Seiersberg (in German) is Styria's largest shopping centre.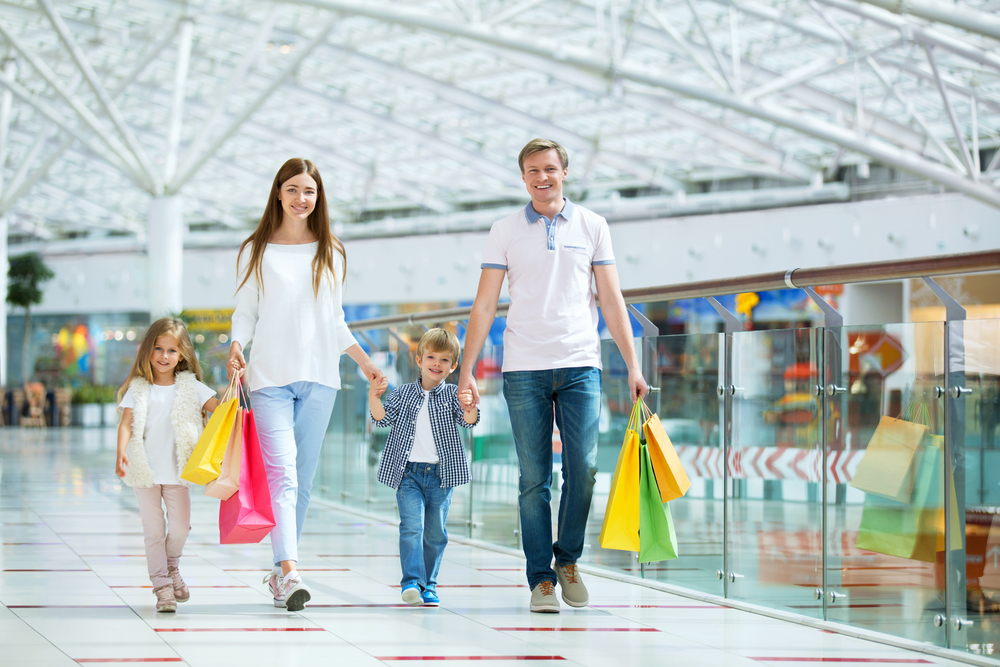 Infrastracture
Styria has a dense and extensive road network (in German). In Austria, the speed limit on motorways is 130 km/h, on expressways and federal roads 100 km/h and on roads in residential areas either 50 or 30 km/h.
Styria's railway network is also impressive and far from inefficient: There are hundreds of kilometres of railway transversing the province to ensure smooth transport of passengers and goods by train. The most important connections are handled by the Austrian rail company ÖBB with the S-Bahn for local transport and the RegioBahn for regional transport. With a punctuality rate of 97%, 44,000 passengers are not only transported to their destinations safely each day, but also on time.
Most bigger cities in Styria offer buses as public transport. In Graz, you can also hop on the tram to get to places.
Visit www.verbundlinie.at to calculate the fastest individual routes for destinations in Styria using public transport.